An Insight Meditation Retreat

– med Heather Sundberg, 12 – 19 september 2019
Plats: Barnens Ö, Norrtälje
OBS! Fullbokad. Väntelista finns – betala ej anmälningsavgift om du ställer dig på väntelista.
Note! The retreat is full, there is a waiting list – if you sign up for the waiting list, do not pay the registration fee

The essence of meditation includes settling & stabilizing attention, encouraging embodied presence, developing mindfulness-wisdom of the patterns within thoughts & emotions, and bringing a warm & caring attention to all we experience. In relationship with each other, these elements of meditation practice offer us the freedom to respond with wisdom & compassion to the challenges we experience in ourselves and in the world, rather than reacting out of habitual conditioning. As we release reactivity, we uncover our inherent capacities for joy, wellbeing and connection.
This silent retreat will offer guided meditations and instructions in both Vipassana and Metta meditation, Dharma Talks, meetings with the teacher (interview), evening chanting, and short periods of optional mindful movement. In addition to sitting and walking insight meditation practice, we will emphasize integrating loving kindness and compassion into all moments of the retreat.
This retreat is suitable for beginning and experienced students of meditation.
For beginners, the retreat is a great way to learn the basics of insight meditation and see its effects clearly. For advanced meditators, the retreat offers an excellent opportunity to deepen and clarify one's practice with the guidance of an experienced teacher.
The retreat is held in the English language, with the possibility of clarification in Swedish if needed.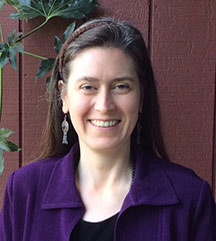 Heather Sundberg has taught Insight Meditation since 1999 and was trained to teach by Jack Kornfield & Joseph Goldstein through the Spirit Rock/IMS Senior Teacher Training Program. She is currently a member of the Spirit Rock Teacher's Council. Her additional training includes Somatic Experiencing and Hakomi Mindfulness-Based Psychotherapy programs. Beginning her own meditation practice in her late teens, Heather has completed an accumulated three years of retreat, sitting 1-3 months of retreat a year for the last two decades. Originally trained as a K-8th grade classroom teacher, she was the Family & Teen Program Teacher at Spirit Rock Meditation Center for a decade. Between 2010- 2015 she spent a cumulative one-year in study, practice, and pilgrimage in Asia. Heather teaches retreats nationally & internationally, and her teaching emphasizes Awakening through the Body (1st foundation mindfulness), the Heart Practices (Divine Abodes), and Wisdom Awareness Practices (MahaSati) out of the Thai forest tradition. For more information about Heather, visit www.heathersundberg.com.
---
Språk: Engelska
Tid: Torsdag 12 september, c:a kl 16.00 – torsdag 19 september, ca kl 14.00
Plats: Granhill, (fd Sjukstugan) – kursgård på Barnens Ö, Väddö, utanför Norrtälje.
Pris:
Grundavgift är 3.100 kr
ange önskemål om boende vid bokning:

4.100 kronor rumstillägg vid enkelrum i Granhill
3.600 kronor rumstillägg vid dubbelrum i Granhill eller enkelrum i Epidemin
3.100 kr dubbelrum i Epidemin
Epidemin är ett närliggande hus med något lägre standard.
Mejla dina önskemål om boende i samband med anmälan. Observera att boende i enkelrum prioriteras till de som har synnerligt behov.
Retreat-avgiften inkluderar mat & logi samt resor för lärare och personal. Utöver den tillkommer frivillig donation (dana) till lärare och personal. Om du önskar donera, finns det möjlighet att erlägga kontanter eller swisha.
Info: Vipassanagruppen [ @ ] sangha.nu
Anmäl dig genom att betala in anmälningsavgiften 1.000 kronor på Vipassanagruppens plusgirokonto 17 43 75-6; ange namn, adress, mail-adress, mobilnummer och födelseår samt retreatkod HS. Om betalning görs via Internet och uppgifterna inte får plats, skicka dessa i ett separat mail. Betala sedan den kvarstående grundavgiften, 2.100 kronor, senast sex veckor före retreatstart (dvs. den 1 augusti 2019). Anmälningsavgiften återbetalas inte, medan den kvarstående avgiften återbetalas om avbokning sker senast en månad före retreat-start.
Notera att eventuella tilläggsavgifter för boende i lägenheterna eller enkelrum betalas på plats vid ankomst till retreaten. Tilläggsavgiften kan då betalas kontant eller via Swish.
För att stödja både den egna och andra deltagares meditationsutövning är det viktigt att alla deltagare har för avsikt att delta i hela retreaten. Om man av någon anledning ej har möjlighet att delta fullt ut, vänligen informera retreat-managern (kontaktuppgifter kommer senare).
Vid fullbokad retreat ges deltagare som gör hela retreaten företräde.
Varmt välkommen önskar Vipassanagruppen!